Thumpstar – TSK 50cc
$1,528.00 – $1,828.00
Small, compact yet simple 50cc, designed as a modular kids first bike.
After many years of feedback on our best selling kids bike, we have made a few well overdue changes. The TSK50 has received a revamp on all levels which allow an awesome little package for junior riders to become even better.
Firstly, we have applied our new mini stealth plastics which give the bike a slick look that appeals to kids and adults alike, it now matches the rest of our bikes in the lineup. We thought the power on our old bikes was sufficient, here at Thumpstar, we are always looking for that extra thump. The TSK50 has a completely new engine, which is semi automatic rather than fully automatic, has both an electric and kick start, and overall provides more power, allowing heavier junior riders. Safety on a kids bike is a must have feature, an emergency lanyard which kills the bike should your child come off, coupled with an adjustable throttle limiter, provides full parental control of the bike.
A great first bike that grows with your young rider, designed to be upgradeable to pro-long service life as your child grows, simply upgrade the forks and rear suspension to the taller option. (optional taller suspensions package available)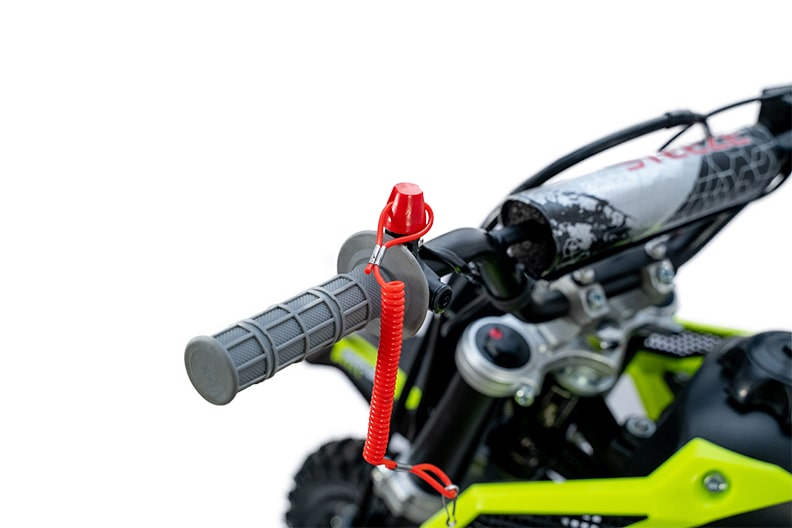 Kill Switch and Lanyard
Safety is an important feature for kids just starting out and parents who are supervising. The TSK 50 comes equipped with an emergency lanyard which can be attached to your child's wrist and will instantly kill the bike should they come off.
Adjustable throttle
Parental control is a must on any motor bike where a child is just starting out and learning how to ride. We here at Thumpstar have tailored the TSK 50 to those junior riders who are learning, and given you the parent or teacher full control over your child's bike, with an easily adjustable throttle limiter, the speed and power delivery of the bike can be easily limited.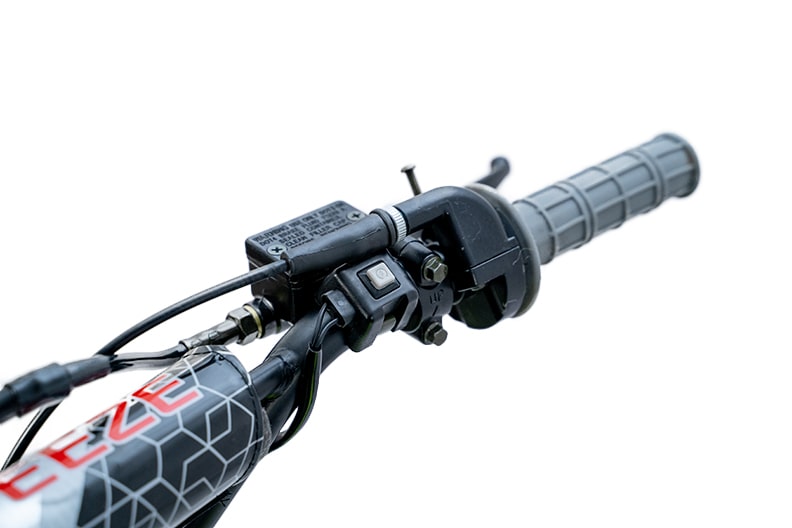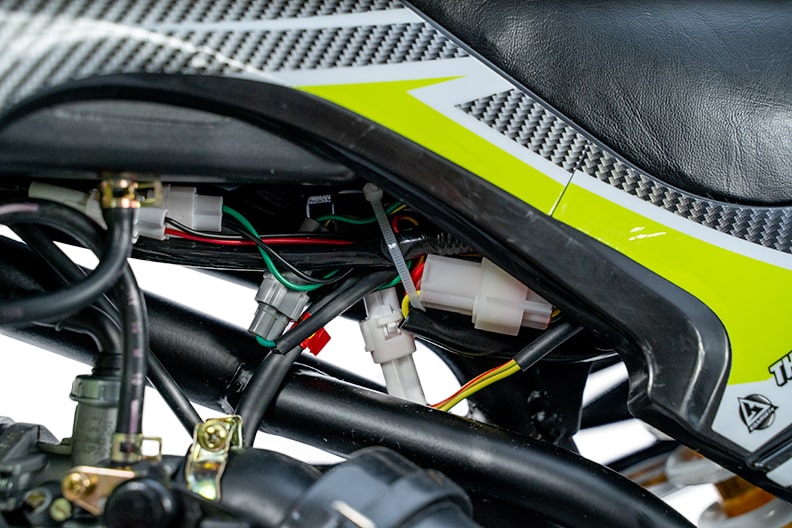 Waterproof Wiring
Building a bike that will last has been a main focus of ours since the beginning. This means we have to produce a motorcycle that will stand the test of time and exposure to the elements. We have given the TSK 50 the same waterproof wiring system that its bigger brothers the TSX125 and TSX140 have.
Wrap Around Frame
Traditional mini bikes produced by our competitors have a CRF50 style frame, we went back to the drawing board and applied our knowledge from larger heavier duty bikes. The new TSK50 frame is what we call a wrap around frame where the swing arm sits between it and the engine, which reduces stress on the bearings and gives the overall system better strength.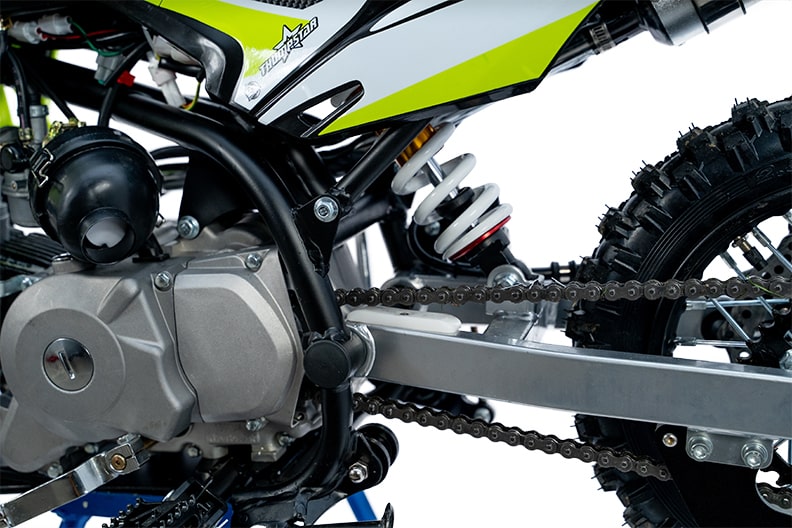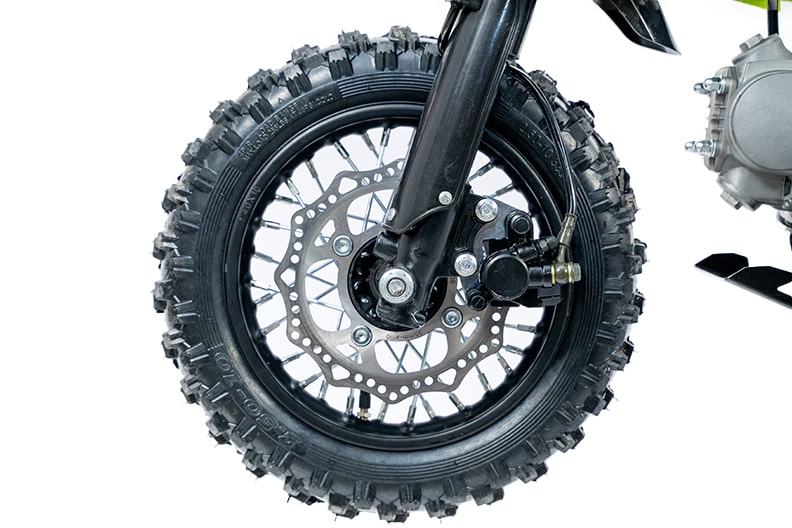 Disc Brakes
Something more important than the power to go fast is stopping power. The TSK50 is well suited for this, with oversized front and rear disc brakes it has more than enough stopping power to go from fast to stop in the blink of an eye.
Pipe Bomb Muffler
On a bike where the ideal places to ride are often backyards or parks where your child is learning, noise can often be an issue. Our pipe bomb muffler system keeps an optimal airflow while keeping the bike quiet and discreet.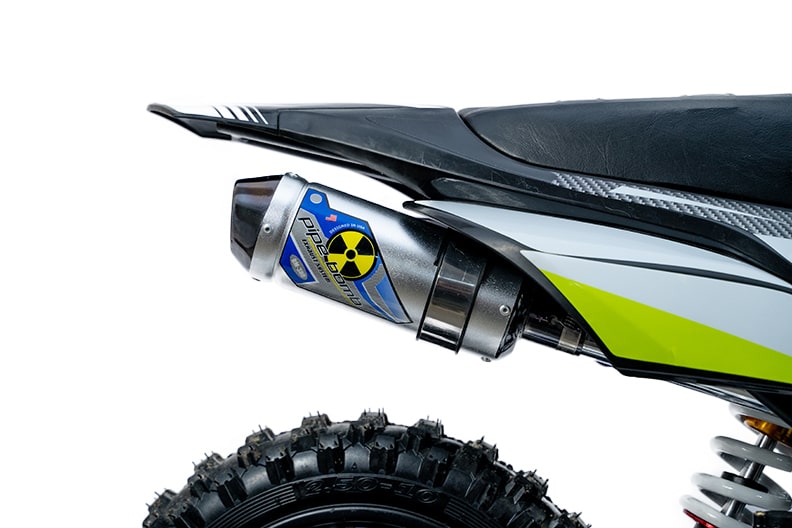 SPECIFICATIONS
ENGINE & TRANSMISSION
Engine
FH | 4 Stroke
CC Rating
50cc
Gearbox
Automatic | 4 speed(N1234)
Starter
Kick/Electric Start
Carburetion
PZ 19mm
Exhaust
Pipe Bomb BM-388 | 28mm Exhaust System
Final Drive
420 Chain
Top Speed
45kph/28mph (depending on gearing)
SUSPENSION, BRAKES, & WHEELS
Suspension Front
VS1 Inverted Forks | Length 525mm | 41 / 45mm Tube
Suspension Rear
VS1 Mono shock | Length 240mm
Brakes Front
Disc | Single Piston
Brakes Rear
Disc | Single Piston
Wheel & Tire Front
Steel Rim | 2.50-10
Wheel & Tire Rear
Steel Rim | 2.50-10
DIMENSIONS & WEIGHT
Wheelbase (axle to axle)
920mm | 36″
Seat Height
570mm | 22″
Product Weight N.W | G.W
50/60kg | 143/165lbs
Tank Capacity
3 Litres | .80 gallon
Product Packing Size
1195x355x630mm | .26 m3